Hello December!
I'm not sure when you got here, but it's nice to see you. Your being here means that I have been in Roanoke for three months now. It also means that I only have nine months left as an AmeriCorps VISTA, which, honestly, is surreal.
December, you presence also means that I can now listen to Christmas music without getting angry. In fact, I'll even sing along. I do wish that Roanoke Christmas music would add some variety to their set list, though, because I'm getting awfully tired of "Rudolph the Red Nosed Reindeer."
Last night, I went with Britannica, her sister and OfficeMate to the Christmas tree lighting downtown. Let me just say that while it's not quite the National Christmas (Holiday?) Tree in DC, it is still extremely cute. Afterwards in the downtown market, they had people dressed up like they were from A Christmas Carol, some carolers, carriage rides, a living nativity, Santa, and vendors lined up on the street selling things like roasted chestnuts and hot cocoa. It was adorable, to say the least. I also may or may not have sung along with a choir and screamed "SANTA" a few times. Oh Christmas, I'm excited that you're here!
Laundry
This morning, I woke fully rested and even lay in bed for an hour or so, finish
ing up a book. It was truly amazing. When I finally got my butt out of bed, I was determined to be productive. I changed my sheets, made some coffee, and decided to finally find this elusive laundry room in our apartment building. I ventured outside in shorts (have I mentioned it's SNOWING today?), boots and a sweatshirt (thus the purpose of laundry) only to walk around in vain, trying to open locked doors with improper keys, and then just kicking them out of frustration.
Maybe my laundry's not that dirty yet. Maybe I can hold out until Christmas. Maybe I should wash all my clothes in the bathtub and hang them out to dry. Maybe my landlord should answer the phone on the weekends. Maybe I should just go to a laundromat. But because it's snowing, so that's unlikely.
Cooking Attempts
I have finally brough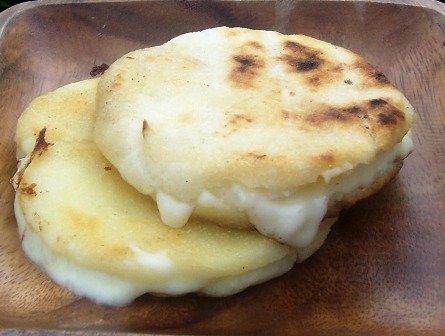 t arepas to Roanoke. Granted, there is no queso caribe to be found in Roanoke (true life: I didn't even bother looking), so they were filled with Kroger's finest mozarella and cheddar because that's what we had in the fridge, and topped with the classiest of ham for a sandwich. Also, yes, I made them for dinner. With a glass of wine. Vegetables, I just cannot be bothered with you these days.
Getting creative with cooking is proving to be quite a task. I try not to repeat meals, but it's been about five or six weeks now, and I've already repeated once. Spaghetti and meatballs, you're just so simple! Also, let's ignore the fact that I eat pb&j almost every single day for lunch, unless I'm resourceful enough to make enough food for dinner to ensure leftovers the next day. When I do that, though, I generally end up eating the same meal for like a week and hate myself for it.
For now, I have every intention of not doing my laundry, making some tea, and starting another book. Because honestly, what else are snowy afternoons in the valley for?